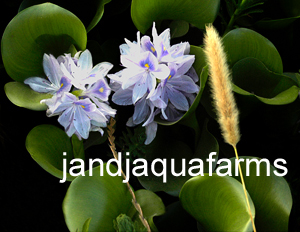 The Water Hyacinth, with its extensive root system and rapid growth, is one of the best plants for filtering your pond water! Prevent nitrates and algae from destroying the beauty of your garden pond! Read more in Water Plants and the Nitrogen Cycle
These plants will instantly enhance your pond environment with color and cleansing biological action. Water Hyacinth will often stimulate spawning of koi and goldfish, as it is one of their preferred spawning substrates. In business for over 37 years, trust J and J for disease and weevil-free Water Hyacinth. Our experienced biologists treat each plant to insure is is free from disease or parasites. Our facilities are state inspected and licensed.
You are bidding on one dozen (12) plants. They are adult plants, but early-season (pre-May) plants are trimmed to 3-4" in diameter and may show browning on leaves. While we gladly replace plants damaged in transit, please order when your area is past severe frost.
Guaranteed live delivery!
Each additional item qualifies for at least a $4 Combined Shipping discount
if multiple items are purchased and paid together!
To insure you receive your plants without a weekend delay, we ship the Monday or Tuesday after your payment arrives
(by Paypal, M.O., Amazon Payments, etc.).
Cannot ship to AL, AZ, CA, FL, LA, SC, and TX
Free of the hyacinth weevil endemic from Florida to Texas
Dealers, please email for wholesale pricing.
Hardy (will survive winters) to zone 8. Other zones normally buy fresh plants every year.
What is your Hardiness Zone?
Lotus planting instructions
Water Lily planting instructions
Water Hyacinth 12
Product Code: WH12
Availability: In Stock
Related Products
Tags: Water hyacinth, water lily, lilies, pond plant, koi pond, water garden, bog, emergent, floating, filter, natural, organic, bio-control, aquaponics, hydroponics
Featured