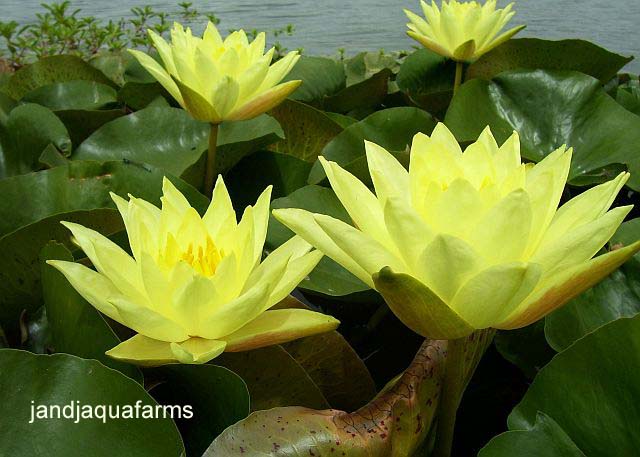 Large Yellow Water Lily (Nymphaea joey tomocik)
J & J Aquafarms has enhanced fine water gardens for over 37 years. Our plants come with an old-fashioned promise: Your satisfaction is guaranteed!
One of our largest lilies, the "Joey Tomocik" lily has 5" spectacular yellow flowers amid 9" bronze-speckled leaves. This water lily is fast growing and hardy to Zone 2 (may go dormant under zone 7). In the Spring it ships as a bare root tuber, but fully grown with leaves after March.Please read the planting instructions to insure transplant success.While we gladly replace plants damaged in transit, please order when your area is past severe frost.
Trust us for clean, disease-free aquatic plants. Each plant is treated by our staff biologists to insure is is free from disease or parasites.Our facilities are state inspected and licensed.
Guaranteed live delivery!
Each additional item qualifies for at least a $4 shipping discount if multiple items are purchased and paid together! We ship the Monday or Tuesday after your payment arrives (by Paypal, M.O., etc.).
Hardy (will survive winters) to zone 2. Other zones normally buy fresh plants every year.
What is your Hardiness Zone?
Large Yellow Water Lily
Product Code: YWL
Availability: In Stock
Related Products
Tags: J and J Aquafarms, J&J Aquafarms, aquafarms Joey tomocik, colorado, helvola, marliac, odorata, arc-en-ciel, attraction, fabiola, sacred lotus, lotus, red, yellow, pink, fuchsia, magenta, white, changeable, Hardy, hardy water lily, water lily, water lilies, hydroponics, aquaponics, J&J Aquafarms, J and J Aquafarms, fish farm, fishfarmstay, aquaculture, water garden, koi pond, horticulture, landscape, tropical, botany, botanical garden,
Featured